G'day,
Heres my thoughts and feedback on the Tiny Tesla and TS
I received a a extra set of TS bleed resistors

I had a left over 1N4148 diode from the SD card interrupter.

I wanted to add alumina oxide thermal pads like i did previous to the Onetesla but the IGBT's are too close together on both the TS and Tiny Tesla.

On the TS I added heat shrink to the primary stand-off posts that connect the primary winding to the driver board.

My TS kit didn't come with M3 washers to space out the stand-off posts so the driver board had clearance of the IGBTs. I used M3 nuts instead.

There is no LED indication on either boards, im planning on adding a DC bus LED and/or logic level LED down the track, having 15V/5V/3.3V may be a dilemma, i will probably choose one. Depends how head room for current there is on those tiny regulator chips.

When following the manual in order, some components are harder to install based on the order installation.

The TO-92 regulators dont have right foot print/lead spacing on the board, the center through hole on the board is offset to the 2 outside through holes but on the regulator pins they are all in a straight line which is painful.

On the small electrolytic capacitors they have the wrong lead spacing which makes the stick up off the board and are lest stable.

The hardware for Tiny Tesla wasn't listed individually which presented some confusing when building both kits.

The boards lead spacings for the control transformer is off on one side, i had to fight to get the last leg in and it went in on an angle on both the TS and Tiny Tesla.

Winding the primary directly onto the secondary isnt good practice in my book, i dont know the coupling co-efficient they are going for but im definitely going to varnish the whole secondary and kapton tape the base where the primary is to be wound.

Will be adding MUR1560 ultra fast diodes across the IGBTs for protection against reverse voltages from the primary for robustness. im not real keen on the 1.5KE510CA's as seen on the schematic.
Anyway here we go:
Kits Arrived nicely packed.
Finished Interrupter
Varnishing the secondarys.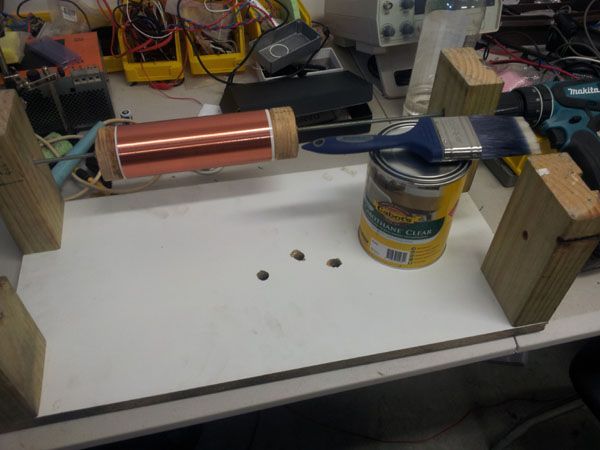 99% complete