Thanks, !
This is crazy! We launched a Kickstarter campaign to get a critical round of pre-orders and also get a bit of publicity, but we expected to have trouble generating serious interest. We reached our $20K goal on day 2, and now (the start of day 4) we've got 230% of that. And we thought we'd be lucky to reach the goal by the end of the 27-day campaign.
It's been interesting to watch where people find out about the campaign. Kickstarter lets you see your referrers in the back end, and about half have come from external sites. That means that half of our backers have found us through Kickstarter, so a whole lot of people must check the site regularly. One interesting referrer has been Mashable, which made a video about the project within only 15 hours of the launch. Another one is Synthtopia, an electronic music portal frequented by MIDI geeks. We were even contacted by a BBC podcaster, and the next day I was called up to do a brief interview for the show Outriders (the podcast should appear on New Year's day). We've gotten so many pledges that had to cap the number of coils we could deliver by February to 150, and we're only promising the next batch by March.
Here's a snapshot from the Kickstarter dashboard of the progress at this point: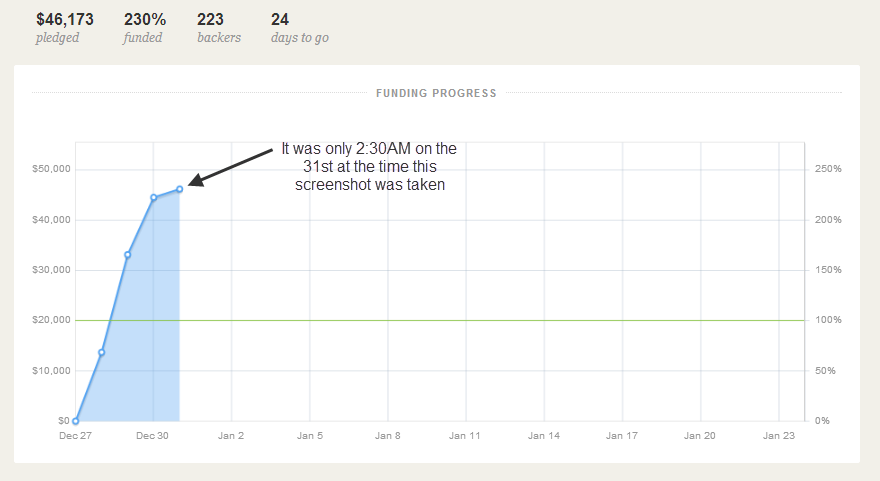 Just for fun, I did a little gender analysis of our backers so far, based on usernames and pictures. A total of nine backers so far with women's names, three of which contributed because they know us personally and wanted wanted to be supportive. Unsurprisingly, but regrettably, I need to ask: female coilers, where are you?!