Earlier last week, the oneTesla team launched a Kickstarter campaign to release their two newest products: tinyTesla and oneTeslaTS. In only three days the campaign has reached quadruple its goal and it continues to grow!
tinyTesla is a little Tesla coil that shoots sparks, plays MIDI tracks, and exercises your soldering skills. This coil kit is designed to be easy to build and assemble for anyone with basic soldering skills. Shooting lightning and playing music using electricity itself is an exciting way to learn about physics and electronics!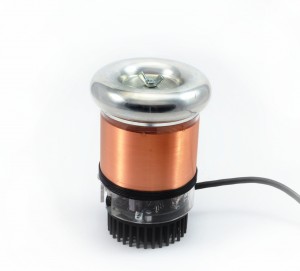 tinyTesla is a Solid-State Tesla Coil (SSTC), which has a non-resonant primary and a resonant secondary. Because the feedback loop locks on to the resonant frequency of the secondary, not the primary, tinyTesla is insensitive to its surroundings, allowing you to safely pull arcs off the coil with a metal object (pulling an arc with your finger will result in a nasty burn and is not recommended!).
In addition to the creation of tinyTesla, the team gathered feedback from hundreds of builders of our previous kit to determine what we could do better. With oneTeslaTS we've designed what we think is the ideal compact Tesla coil, with a focus on reliability, ease of assembly, portability, and usability.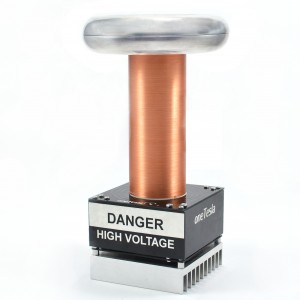 oneTeslaTS is a Dual-Resonant Solid State Tesla Coil (DRSSTC), which uses a tuned primary circuit for improved performance. This design allows the coil to efficiently produce long sparks (nearly two feet!) using a compact driver and a minimum of power.
Learn more about these new products on our Kickstarter page and pick up your own tinyTesla or oneTeslaTS today! Get 'em soon, they're going quickly. :)